Club Championships 2018
12/11/2018
Over 60 swimmers of all ages took part in the event. Competitors swam in a range of events across the two nights, from the youngest swimmers completing widths in their first ever races to the competitive squad and adult masters swimmers tackling 50m, 100m and 200m events.
The mood was one of friendly competition and support, with the older, experienced swimmers encouraging the newest.
There was also a race between head coach Pete Billing and his assistant coach Tegan Carpenter-George. Tegan narrowly claimed victory on the night to the delight of the squad swimmers.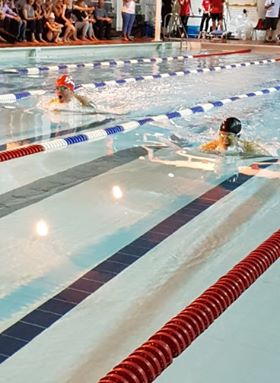 The weekend finished with a fun relay, with teams made up of swimmers of all ages and abilities and captained by senior members of the club.
The club was deeply affected by the Frome pool closure several years ago but under the excellent guidance of Head Coach Pete Billing, his coaching team and the club's enthusiastic and tireless volunteer committee the club is now going from strength to strength. As a result, many of the squad will be heading to the Somerset County Championships at the start of the new year. Frome swimmers have also gained places in the Regional and National Championships.
---
There are no featured pages