Frome SC Annual Excursion To Cornwall
12/03/2019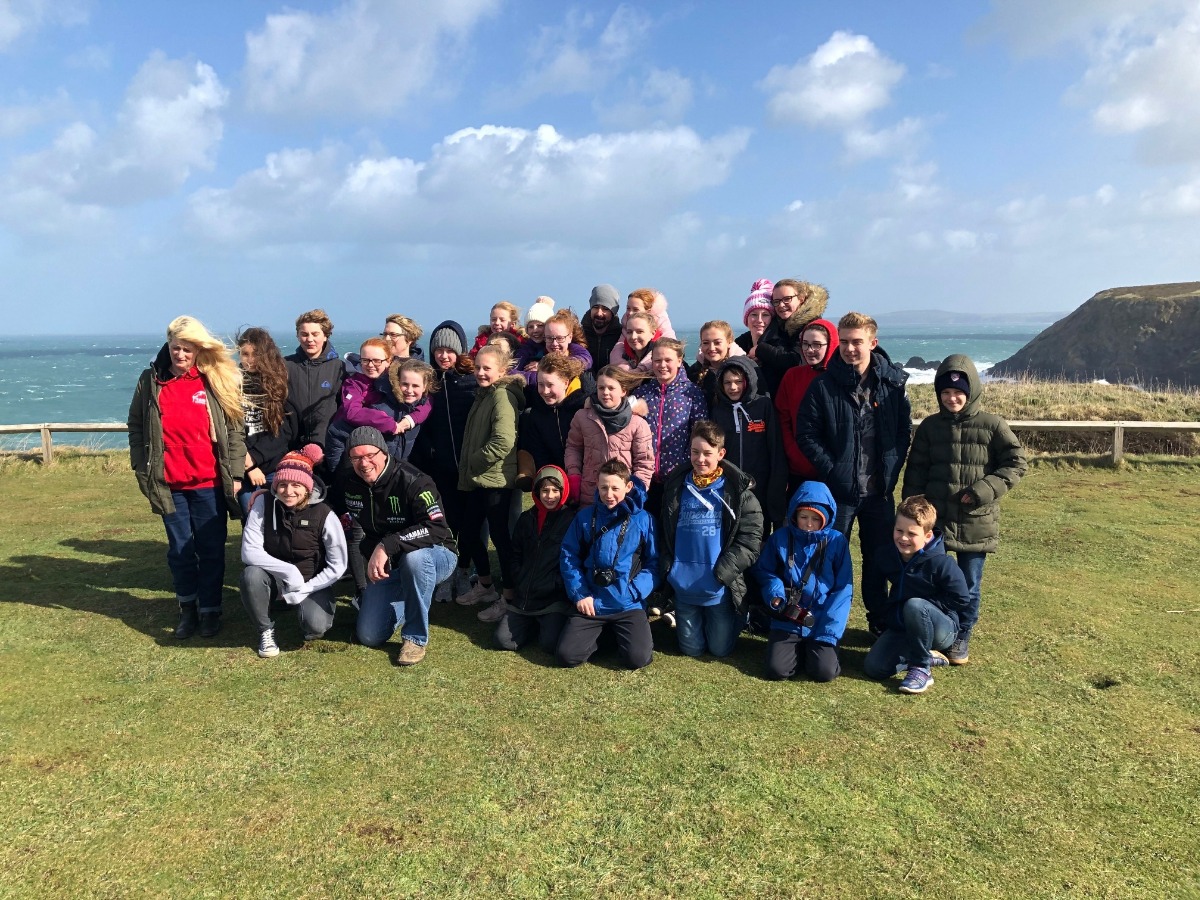 The second weekend of March 2019 saw 30 members of Frome SC (and their families!!) travel the 175 mile to Cornwall to take part in the Carn Brea Fast Five Sprint meet.
On Saturday 9th March the team made their way to the Penzance Leisure Centre for the 10.30am start. We had swimmers of all abilities taking part, from those at their very first Open Meet to Ex National competitors. Proudly supported by their Coaches, Pete and Tegan, the swimmers put in superb performances race after race.
The first session was the 100IM and the 50 Butterfly for all swimmers, plus the hugely exciting 'Skins' race for the fastest Junior and Senior IM swimmers. Skins, for those that have never witnessed the race, is a very tactical event! For the first four rounds its all about not coming last!! The 6 finalists line up on the blocks and have to swim a 50m race, they don't know what stroke they will be swimming until it has been randomly drawn just before the swim. The slowest swimmer is eliminated, the remaining 5 swimmers line up again to race the next randomly chosen 50m race. Once two swimmers remain they is an eyepoppingly flat out swim to decide the winner. One of our Masters swimmers, Greg, qualified for the Skins event and held on to a fourth place against some very tough opposition.
The second session, again for all swimmers, was the 50m Backstroke, 50m Breastroke and finally the 50m Freestyle.
Our 30 swimmers took part in 68 events, a total of 145 swims, keeping the Team Managers on their toes all day!! The team recorded 91 PB's in those events, the medals were presented for the overall performance over the five races. Although we celebrate all of our swimmers acheivements special congratulations must go to :- Bethan Davis who took the overall Gold in the girls 14yr age group, Alisha Freeman who took Silver in the girls 11yr age group, Hugo Jones who took Bronze in the boys 11yr age group and Charlie Hemmens who took Bronze in the girls 15yr age group.
A special mention must go to our volunteer officials, without who the swimmers would not be able to compete in these events. Along with our two long standing volunteers, Liz Metcalfe and Aaron Freeman, this gala was the first outing for our new trainees, our thanks go to Richard & Abi Bahadoor, Tim & Sarah Davis, Amanda Warman and Stuart Evans.
At the end of an exhausting but enjoyable day all 67 of us returned to the hotel to enjoy a celebratory meal and a social evening together. To finish off the weekend on a sunny but blustery Sunday morning we took a trip to Mutton Cove to see the seals before our long trek back to Somerset.
| Event # | Event Sub # | Distance | Stroke | Swimmer | Time | Position |
| --- | --- | --- | --- | --- | --- | --- |
| 1 | 1A | 100m | Medley | Billing, Hannah | 1:47.63 | 4 |
| 1 | 1A | 100m | Medley | Jones, Millie | 1:55.66 | 9 |
| 1 | 1B | 100m | Medley | Ross-Osborne, Erin | DQ (1B) | 0 |
| 1 | 1C | 100m | Medley | Freeman, Alisha | 1:23.82 | 2 |
| 1 | 1C | 100m | Medley | Davis, Emma | 1:38.06 | 14 |
| 1 | 1C | 100m | Medley | Coxon, Ellen | 1:52.81 | 24 |
| 1 | 1D | 100m | Medley | Poole, Mia | 1:28.83 | 13 |
| 1 | 1D | 100m | Medley | Elkins, Caitlin | 1:39.50 | 19 |
| 1 | 1D | 100m | Medley | Evans, Darcey | 1:39.65 | 20 |
| 1 | 1E | 100m | Medley | Metcalfe, Jessica | 1:20.88 | 8 |
| 1 | 1E | 100m | Medley | Applegate, Milly | 1:27.83 | 18 |
| 1 | 1E | 100m | Medley | Bahadoor, Grace | DQ (5F) | 0 |
| 1 | 1F | 100m | Medley | Davis, Bethan | 1:17.85 | 3 |
| 1 | 1G | 100m | Medley | Hemmens, Charlie | 1:15.97 | 2 |
| 1 | 1G | 100m | Medley | Billing, Lauren | 1:20.95 | 5 |
| 1 | 1G | 100m | Medley | Singer, Holly | 1:27.11 | 6 |
| 1 | 1H | 100m | Medley | Duffy, Katie | 1:24.27 | 11 |
| 1 | 1H | 100m | Medley | Dors, Hannah | 1:26.66 | 12 |
| 1 | 1H | 100m | Medley | Crozier, Cherie | 1:55.62 | 14 |
| 2 | 2B | 100m | Medley | Fisher, Jonas | 1:49.62 | 9 |
| 2 | 2B | 100m | Medley | Everton, Alastair | 1:59.97 | 11 |
| 2 | 2C | 100m | Medley | Jones, Hugo | 1:24.89 | 4 |
| 2 | 2C | 100m | Medley | Warman, Edwin | 1:35.09 | 9 |
| 2 | 2D | 100m | Medley | Streatfeild-James, Jojo | 1:27.96 | 8 |
| 2 | 2E | 100m | Medley | Everton, Gareth | 1:38.45 | 12 |
| 2 | 2E | 100m | Medley | Dawes, Daniel | DQ (3Q) | 0 |
| 2 | 2H | 100m | Medley | Carpenter-George, Greg | 1:07.51 | 5 |
| 2 | 2H | 100m | Medley | Carpenter, Will | 1:15.56 | 10 |
| 3 | 3A | 50m | Fly | Billing, Hannah | 1:00.98 | 7 |
| 3 | 3A | 50m | Fly | Jones, Millie | 1:12.75 | 10 |
| 3 | 3B | 50m | Fly | Ross-Osborne, Erin | 1:09.09 | 19 |
| 3 | 3C | 50m | Fly | Freeman, Alisha | 0:37.33 | 2 |
| 3 | 3C | 50m | Fly | Davis, Emma | 0:49.50 | 18 |
| 3 | 3C | 50m | Fly | Coxon, Ellen | 0:59.97 | 24 |
| 3 | 3D | 50m | Fly | Evans, Darcey | 0:42.09 | 13 |
| 3 | 3D | 50m | Fly | Poole, Mia | 0:44.92 | 17 |
| 3 | 3D | 50m | Fly | Elkins, Caitlin | 0:48.77 | 19 |
| 3 | 3E | 50m | Fly | Metcalfe, Jessica | 0:39.10 | 14 |
| 3 | 3E | 50m | Fly | Applegate, Milly | 0:41.97 | 19 |
| 3 | 3E | 50m | Fly | Bahadoor, Grace | 0:48.90 | 23 |
| 3 | 3F | 50m | Fly | Davis, Bethan | 0:32.59 | 1 |
| 3 | 3G | 50m | Fly | Hemmens, Charlie | 0:34.15 | 2 |
| 3 | 3G | 50m | Fly | Billing, Lauren | 0:34.93 | 3 |
| 3 | 3G | 50m | Fly | Singer, Holly | 0:37.63 | 6 |
| 3 | 3H | 50m | Fly | Duffy, Katie | 0:39.50 | 11 |
| 3 | 3H | 50m | Fly | Dors, Hannah | 0:41.30 | 12 |
| 3 | 3H | 50m | Fly | Crozier, Cherie | 0:52.74 | 14 |
| 4 | 4B | 50m | Fly | Fisher, Jonas | 0:51.07 | 7 |
| 4 | 4B | 50m | Fly | Everton, Alastair | 1:02.00 | 11 |
| 4 | 4C | 50m | Fly | Jones, Hugo | 0:36.38 | 2 |
| 4 | 4C | 50m | Fly | Warman, Edwin | DQ (1B) | 0 |
| 4 | 4D | 50m | Fly | Streatfeild-James, Jojo | 0:43.50 | 9 |
| 4 | 4E | 50m | Fly | Everton, Gareth | 0:42.61 | 12 |
| 4 | 4E | 50m | Fly | Dawes, Daniel | 0:59.11 | 15 |
| 4 | 4H | 50m | Fly | Carpenter-George, Greg | 0:29.15 | 3 |
| 4 | 4H | 50m | Fly | Carpenter, Will | 0:34.75 | 10 |
| 5 | 5A | 50m | Back | Billing, Hannah | 0:49.27 | 6 |
| 5 | 5A | 50m | Back | Jones, Millie | 0:53.40 | 11 |
| 5 | 5B | 50m | Back | Ross-Osborne, Erin | 1:00.10 | 18 |
| 5 | 5C | 50m | Back | Freeman, Alisha | 0:37.69 | 1 |
| 5 | 5C | 50m | Back | Davis, Emma | 0:45.45 | 16 |
| 5 | 5C | 50m | Back | Coxon, Ellen | 0:51.79 | 25 |
| 5 | 5D | 50m | Back | Poole, Mia | 0:42.22 | 11 |
| 5 | 5D | 50m | Back | Evans, Darcey | 0:43.62 | 15 |
| 5 | 5D | 50m | Back | Elkins, Caitlin | 0:49.02 | 20 |
| 5 | 5E | 50m | Back | Metcalfe, Jessica | 0:38.11 | 8 |
| 5 | 5E | 50m | Back | Applegate, Milly | 0:39.14 | 13 |
| 5 | 5E | 50m | Back | Bahadoor, Grace | 0:45.76 | 25 |
| 5 | 5F | 50m | Back | Davis, Bethan | 0:35.25 | 4 |
| 5 | 5G | 50m | Back | Hemmens, Charlie | 0:36.18 | 2 |
| 5 | 5G | 50m | Back | Billing, Lauren | 0:37.00 | 3 |
| 5 | 5G | 50m | Back | Singer, Holly | 0:39.39 | 6 |
| 5 | 5H | 50m | Back | Duffy, Katie | 0:38.85 | 10 |
| 5 | 5H | 50m | Back | Dors, Hannah | 0:40.36 | 12 |
| 5 | 5H | 50m | Back | Coxon, Vicki | 0:53.88 | 13 |
| 5 | 5H | 50m | Back | Crozier, Cherie | 0:58.53 | 14 |
| 6 | 6A | 50m | Back | Coxon, Isaac | 1:04.58 | 6 |
| 6 | 6B | 50m | Back | Fisher, Jonas | 0:47.12 | 7 |
| 6 | 6B | 50m | Back | Everton, Alastair | DQ (2E) | 0 |
| 6 | 6C | 50m | Back | Jones, Hugo | 0:38.87 | 4 |
| 6 | 6C | 50m | Back | Warman, Edwin | 0:46.02 | 9 |
| 6 | 6D | 50m | Back | Streatfeild-James, Jojo | 0:40.67 | 7 |
| 6 | 6E | 50m | Back | Everton, Gareth | 0:44.76 | 14 |
| 6 | 6E | 50m | Back | Dawes, Daniel | 0:47.42 | 16 |
| 6 | 6H | 50m | Back | Carpenter-George, Greg | 0:32.06 | 5 |
| 6 | 6H | 50m | Back | Carpenter, Will | 0:35.60 | 9 |
| 7 | 7A | 50m | Breast | Billing, Hannah | 0:57.74 | 4 |
| 7 | 7A | 50m | Breast | Jones, Millie | 1:01.89 | 6 |
| 7 | 7B | 50m | Breast | Ross-Osborne, Erin | 1:09.79 | 19 |
| 7 | 7C | 50m | Breast | Freeman, Alisha | 0:44.43 | 2 |
| 7 | 7C | 50m | Breast | Davis, Emma | 0:52.95 | 16 |
| 7 | 7C | 50m | Breast | Coxon, Ellen | 1:01.27 | 25 |
| 7 | 7D | 50m | Breast | Poole, Mia | 0:48.17 | 14 |
| 7 | 7D | 50m | Breast | Elkins, Caitlin | 0:54.86 | 20 |
| 7 | 7E | 50m | Breast | Metcalfe, Jessica | 0:39.84 | 1 |
| 7 | 7E | 50m | Breast | Applegate, Milly | 0:47.77 | 20 |
| 7 | 7E | 50m | Breast | Bahadoor, Grace | 0:57.68 | 25 |
| 7 | 7F | 50m | Breast | Davis, Bethan | 0:39.92 | 1 |
| 7 | 7G | 50m | Breast | Billing, Lauren | 0:43.21 | 4 |
| 7 | 7G | 50m | Breast | Hemmens, Charlie | 0:44.08 | 5 |
| 7 | 7G | 50m | Breast | Singer, Holly | 0:50.38 | 6 |
| 7 | 7H | 50m | Breast | Dors, Hannah | 0:46.08 | 11 |
| 7 | 7H | 50m | Breast | Duffy, Katie | 0:46.14 | 12 |
| 7 | 7H | 50m | Breast | Coxon, Vicki | 0:55.91 | 14 |
| 7 | 7H | 50m | Breast | Crozier, Cherie | 1:09.83 | 15 |
| 8 | 8A | 50m | Breast | Coxon, Isaac | 1:09.96 | 6 |
| 8 | 8B | 50m | Breast | Fisher, Jonas | 0:51.43 | 5 |
| 8 | 8B | 50m | Breast | Everton, Alastair | 0:59.64 | 11 |
| 8 | 8C | 50m | Breast | Jones, Hugo | 0:47.45 | 6 |
| 8 | 8C | 50m | Breast | Warman, Edwin | 0:50.04 | 9 |
| 8 | 8D | 50m | Breast | Streatfeild-James, Jojo | 0:47.89 | 10 |
| 8 | 8E | 50m | Breast | Dawes, Daniel | 0:55.65 | 14 |
| 8 | 8E | 50m | Breast | Everton, Gareth | 0:56.43 | 15 |
| 8 | 8H | 50m | Breast | Carpenter-George, Greg | 0:35.18 | 3 |
| 8 | 8H | 50m | Breast | Carpenter, Will | 0:40.57 | 9 |
| 9 | 9A | 50m | Free | Billing, Hannah | 0:43.76 | 4 |
| 9 | 9A | 50m | Free | Jones, Millie | 0:45.24 | 9 |
| 9 | 9B | 50m | Free | Ross-Osborne, Erin | 1:00.71 | 20 |
| 9 | 9C | 50m | Free | Freeman, Alisha | 0:33.53 | 2 |
| 9 | 9C | 50m | Free | Davis, Emma | 0:39.75 | 17 |
| 9 | 9C | 50m | Free | Coxon, Ellen | 0:41.29 | 20 |
| 9 | 9D | 50m | Free | Poole, Mia | 0:35.98 | 12 |
| 9 | 9D | 50m | Free | Elkins, Caitlin | 0:42.72 | 18 |
| 9 | 9D | 50m | Free | Evans, Darcey | DQ (7B) | 0 |
| 9 | 9E | 50m | Free | Metcalfe, Jessica | 0:31.22 | 4 |
| 9 | 9E | 50m | Free | Applegate, Milly | 0:34.42 | 15 |
| 9 | 9E | 50m | Free | Bahadoor, Grace | 0:42.89 | 25 |
| 9 | 9F | 50m | Free | Davis, Bethan | 0:30.96 | 4 |
| 9 | 9G | 50m | Free | Billing, Lauren | 0:30.43 | 1 |
| 9 | 9G | 50m | Free | Hemmens, Charlie | 0:31.63 | 4 |
| 9 | 9G | 50m | Free | Singer, Holly | 0:32.49 | 6 |
| 9 | 9H | 50m | Free | Duffy, Katie | 0:32.59 | 9 |
| 9 | 9H | 50m | Free | Dors, Hannah | 0:35.30 | 12 |
| 9 | 9H | 50m | Free | Crozier, Cherie | 0:43.32 | 14 |
| 9 | 9H | 50m | Free | Coxon, Vicki | 0:43.55 | 15 |
| 10 | 10A | 50m | Free | Coxon, Isaac | 0:57.19 | 6 |
| 10 | 10B | 50m | Free | Fisher, Jonas | 0:44.63 | 9 |
| 10 | 10B | 50m | Free | Everton, Alastair | 0:55.23 | 12 |
| 10 | 10C | 50m | Free | Jones, Hugo | 0:33.33 | 4 |
| 10 | 10C | 50m | Free | Warman, Edwin | 0:38.02 | 9 |
| 10 | 10D | 50m | Free | Streatfeild-James, Jojo | 0:35.09 | 9 |
| 10 | 10E | 50m | Free | Everton, Gareth | 0:35.68 | 14 |
| 10 | 10E | 50m | Free | Dawes, Daniel | 0:41.05 | 16 |
| 10 | 10H | 50m | Free | Carpenter-George, Greg | 0:26.72 | 4 |
| 10 | 10H | 50m | Free | Carpenter, Will | 0:30.05 | 9 |
---
There are no featured pages