PSC Season Season Starter 2018
02/11/2018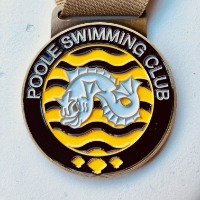 PSC Season Season Starter 2018
Another great weekend of swimming!
The weekend of the 27th & 28th of October saw 19 of our Competitive Squad take a road trip to Dorchester!
The team all pulled together, encouraging one another, congratulating each other and occasionally sympathising.
The final medal haul totalled 7 Golds, 12 Silvers and 10 Bronze.
There were also 26 County Qualifying times achieved at the meet!
| Event # | Event Sub # | Distance | Stroke | Swimmer | Time | Position |
| --- | --- | --- | --- | --- | --- | --- |
| 1 | 1E | 200m | Medley | Hastings-McMahon, Lily | 2:39.59 | 2 |
| 1 | 1G | 200m | Medley | Billing, Lauren | 2:57.94 | 7 |
| 3 | 3C | 50m | Back | Freeman, Alisha | 0:37.20 | 2 |
| 3 | 3C | 50m | Back | Evans, Darcey | 0:44.60 | 11 |
| 3 | 3C | 50m | Back | Davis, Emma | 0:48.46 | 13 |
| 3 | 3E | 50m | Back | Davis, Bethan | 0:35.97 | 1 |
| 4 | 4B | 50m | Fly | Everton, Alastair | DQ (1E) | 0 |
| 4 | 4C | 50m | Fly | Endicott, Dillon | 0:44.26 | 5 |
| 4 | 4C | 50m | Fly | Streatfeild-James, Jojo | 0:44.33 | 6 |
| 4 | 4D | 50m | Fly | Everton, Gareth | 0:48.54 | 8 |
| 4 | 4H | 50m | Fly | Carpenter, Will | 0:34.47 | 5 |
| 5 | 5C | 100m | Free | Freeman, Alisha | 1:13.07 | 3 |
| 5 | 5C | 100m | Free | Evans, Darcey | 1:25.00 | 13 |
| 5 | 5C | 100m | Free | Davis, Emma | 1:32.38 | 18 |
| 5 | 5E | 100m | Free | Davis, Bethan | 1:11.67 | 7 |
| 5 | 5G | 100m | Free | Billing, Lauren | 1:09.01 | 7 |
| 5 | 5I | 100m | Free | Crozier, Cherie | 1:37.94 | 4 |
| 6 | 6B | 100m | Breast | Everton, Alastair | 2:17.20 | 11 |
| 6 | 6C | 100m | Breast | Endicott, Dillon | 1:41.79 | 3 |
| 6 | 6C | 100m | Breast | Hastings-McMahon, Harry | 1:46.06 | 4 |
| 6 | 6C | 100m | Breast | Streatfeild-James, Jojo | 1:49.50 | 5 |
| 6 | 6H | 100m | Breast | Carpenter, Will | 1:30.43 | 5 |
| 7 | 7C | 200m | Back | Freeman, Alisha | 2:55.56 | 2 |
| 7 | 7E | 200m | Back | Hastings-McMahon, Lily | 2:36.64 | 1 |
| 7 | 7E | 200m | Back | Davis, Bethan | 2:56.20 | 2 |
| 8 | 8C | 200m | Medley | Streatfeild-James, Jojo | 3:15.02 | 5 |
| 10 | 10H | 50m | Back | Carpenter, Will | 0:36.30 | 5 |
| 11 | 11C | 50m | Fly | Freeman, Alisha | 0:38.06 | 2 |
| 11 | 11C | 50m | Fly | Evans, Darcey | 0:45.64 | 7 |
| 11 | 11I | 50m | Fly | Crozier, Cherie | 0:54.25 | 4 |
| 12 | 12C | 100m | Free | Streatfeild-James, Jojo | 1:20.50 | 5 |
| 12 | 12C | 100m | Free | Hastings-McMahon, Harry | 1:20.87 | 6 |
| 12 | 12H | 100m | Free | Carpenter, Will | 1:06.83 | 4 |
| 13 | 13C | 100m | Breast | Freeman, Alisha | 1:43.77 | 7 |
| 13 | 13E | 100m | Breast | Metcalfe, Jessica | 1:32.14 | 3 |
| 14 | 14H | 200m | Back | Carpenter, Will | 2:44.92 | 5 |
| 15 | 15D | 400m | Medley | Hastings-McMahon, Lily | 6:00.33 | 2 |
| 16 | 16C | 200m | Free | Jones, Hugo | 2:45.70 | 4 |
| 16 | 16C | 200m | Free | Streatfeild-James, Jojo | 2:51.22 | 8 |
| 16 | 16C | 200m | Free | Hastings-McMahon, Harry | 3:05.98 | 10 |
| 16 | 16D | 200m | Free | Everton, Gareth | 2:52.79 | 8 |
| 17 | 17C | 50m | Free | Davis, Emma | 0:39.74 | 13 |
| 17 | 17D | 50m | Free | Foster, Megan | 0:32.80 | 6 |
| 17 | 17E | 50m | Free | Davis, Bethan | 0:31.50 | 5 |
| 17 | 17E | 50m | Free | Metcalfe, Jessica | 0:32.16 | 7 |
| 17 | 17E | 50m | Free | George, Hayley | 0:35.50 | 15 |
| 17 | 17G | 50m | Free | Billing, Lauren | 0:30.69 | 4 |
| 17 | 17G | 50m | Free | Hemmens, Charlie | 0:31.04 | 8 |
| 17 | 17I | 50m | Free | Crozier, Cherie | 0:44.61 | 3 |
| 19 | 19D | 100m | Back | Foster, Megan | 1:24.86 | 10 |
| 19 | 19E | 100m | Back | Metcalfe, Jessica | 1:22.10 | 1 |
| 19 | 19E | 100m | Back | Davis, Bethan | 1:22.45 | 4 |
| 19 | 19E | 100m | Back | George, Hayley | 1:29.22 | 8 |
| 19 | 19G | 100m | Back | Singer, Holly | 1:22.64 | 7 |
| 20 | 20B | 200m | Breast | Everton, Alastair | 4:42.43 | 5 |
| 20 | 20C | 200m | Breast | Endicott, Dillon | 3:32.70 | 2 |
| 20 | 20C | 200m | Breast | Jones, Hugo | 3:43.93 | 3 |
| 20 | 20C | 200m | Breast | Hastings-McMahon, Harry | 3:47.83 | 4 |
| 20 | 20H | 200m | Breast | Carpenter, Will | 3:06.14 | 1 |
| 22 | 22C | 200m | Free | Davis, Emma | 3:13.07 | 10 |
| 22 | 22D | 200m | Free | Foster, Megan | 2:50.74 | 11 |
| 22 | 22E | 200m | Free | Davis, Bethan | 2:37.38 | 3 |
| 22 | 22E | 200m | Free | George, Hayley | 3:03.76 | 9 |
| 22 | 22G | 200m | Free | Singer, Holly | 2:43.22 | 10 |
| 22 | 22I | 200m | Free | Crozier, Cherie | 3:32.20 | 3 |
| 23 | 23C | 50m | Free | Streatfeild-James, Jojo | 0:35.48 | 7 |
| 23 | 23C | 50m | Free | Hastings-McMahon, Harry | 0:35.63 | 8 |
| 23 | 23D | 50m | Free | Everton, Gareth | 0:36.59 | 9 |
| 23 | 23H | 50m | Free | Carpenter, Will | 0:29.94 | 1 |
| 24 | 24E | 100m | Fly | Hastings-McMahon, Lily | 1:18.79 | 2 |
| 24 | 24G | 100m | Fly | Hemmens, Charlie | 1:18.04 | 3 |
| 24 | 24G | 100m | Fly | Singer, Holly | 1:36.33 | 9 |
| 24 | 24I | 100m | Fly | Crozier, Cherie | 2:06.35 | 2 |
| 25 | 25C | 100m | Back | Endicott, Dillon | 1:29.63 | 7 |
| 25 | 25H | 100m | Back | Carpenter, Will | 1:16.80 | 2 |
| 26 | 26E | 200m | Breast | Metcalfe, Jessica | 3:16.47 | 3 |
| 28 | 28B | 50m | Breast | Everton, Alastair | 1:01.11 | 12 |
| 28 | 28C | 50m | Breast | Hastings-McMahon, Harry | 0:47.23 | 3 |
| 28 | 28H | 50m | Breast | Carpenter, Will | 0:41.89 | 1 |
| 29 | 29G | 100m | Medley | Hemmens, Charlie | 1:18.67 | 2 |
| 29 | 29G | 100m | Medley | Singer, Holly | 1:29.57 | 7 |
| 29 | 29I | 100m | Medley | Crozier, Cherie | 1:59.27 | 2 |
| 31 | 31E | 50m | Breast | Metcalfe, Jessica | 0:42.43 | 5 |
| 31 | 31E | 50m | Breast | George, Hayley | 0:46.93 | 8 |
| 32 | 32B | 100m | Medley | Everton, Alastair | DQ (5F) | 0 |
| 32 | 32H | 100m | Medley | Carpenter, Will | 1:18.55 | 1 |
---
There are no featured pages